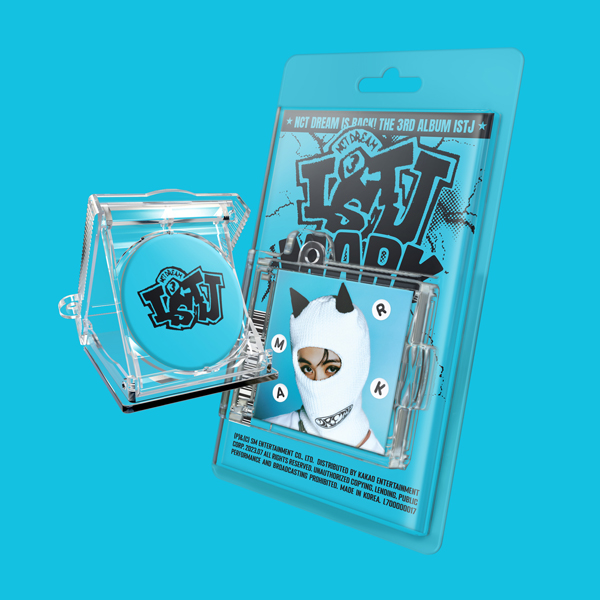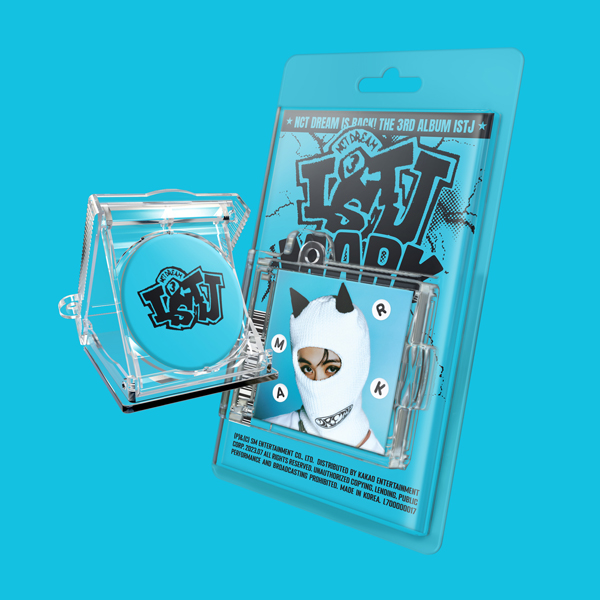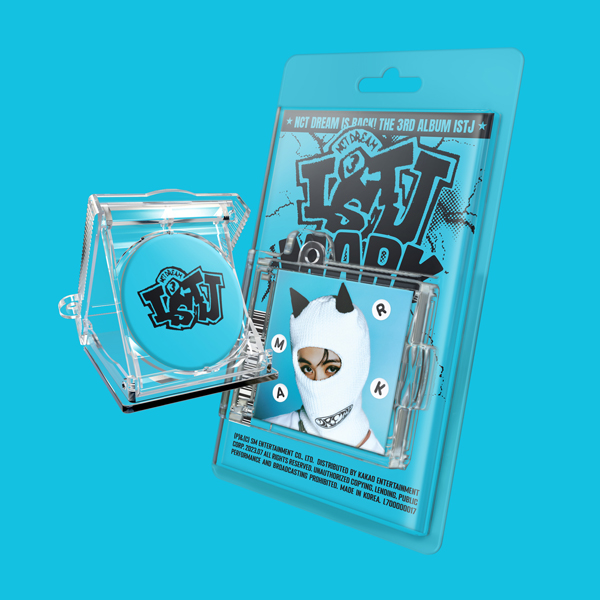 NCT DREAM
NCT DREAM - The 3rd Album [ISTJ] (SMini Ver.) (Smart Album) (Random Ver.)
Release

2023-07-21

(Expected) Date of stock

2023-08-25
Mileage

12

Goods code

GD00096734

Sales

13,612
* The outer case is just for protecting goods. (scratches and discoloration on the case can not be the reason for exchanging or returning).
NCT DREAM
The 3rd Album [ISTJ] (SMini Ver.) (Smart Album)

- 커버 : 7종
- 키링 볼체인 : 1종
- Music NFC CD : 1종
- 포토카드 : 7종 중 랜덤 1종 삽입 (버전 별 이미지 동일)
* 케이스 겉면의 미세한 줄은 생산 공정상 생기는 줄로 하자가 아님을 알려드립니다.


TRACK LIST

01. ISTJ
02. Broken Melodies
03. Yogurt Shake
04. Skateboard
05. 파랑 (Blue Wave)
06. Poison (모래성)
07. SOS
08. Pretzel (♡)
09. 제자리 걸음 (Starry Night)
10. Like We Just Met

INFORMATION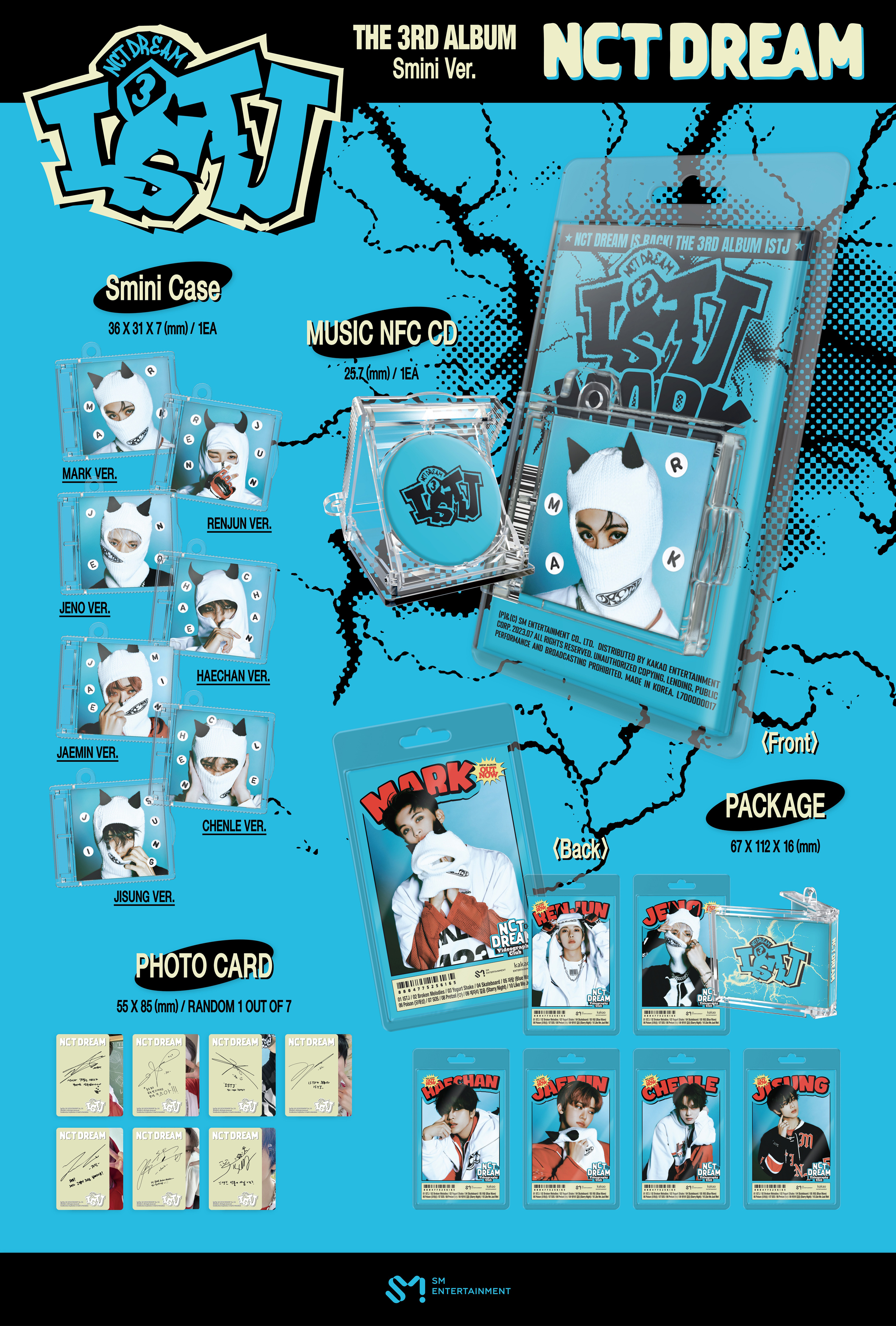 대세의 귀환! NCT DREAM, 정규 3집 'ISTJ' 7월 17일 발매!
가요계에 거세게 불어올 NCT DREAM 열풍!

NCT DREAM(에스엠엔터테인먼트 소속)이 정규 3집 'ISTJ'(아이에스티제이)를 발표하고 화려하게 귀환한다.

NCT DREAM 정규 3집 'ISTJ'는 7월 17일 발매되며, 동명의 타이틀 곡 'ISTJ'를 포함한 다채로운 장르의 총 10곡이 수록되어 있다.

이번 앨범은 NCT DREAM이 2022년 5월 발표한 정규 2집 리패키지 'Beatbox' 이후 1년 2개월 만에 선보이는 새 정규 앨범으로, 더욱 강력해진 멤버들의 시너지로 가요계에 NCT DREAM 열풍을 불러일으킬 전망이다.

더불어 NCT DREAM은 지난해 발표한 정규 2집 'Glitch Mode', 리패키지 'Beatbox', 겨울 스페셜 앨범 'Candy' 등 신보로만 음반 판매량 561만장을 넘어 트리플 히트를 기록한 것은 물론, 작년 9월부터 전 세계 26개 도시 41회에 걸쳐 진행 중인 두 번째 월드 투어로 글로벌 인기와 영향력을 높인 만큼, 이번 앨범으로 펼칠 활약에도 이목이 집중된다.

---------------------------------------------

<스마트앨범 SMini Ver. 이용 방법>
1. '스마트 뮤직 카드(Smart Music Card)' 애플리케이션 설치
2. MUSIC NATION SMTOWN 계정 또는 스마트 뮤직 카드 계정으로 로그인
3. NFC CD를 휴대폰에 NFC 태그
- iOS : 우측 하단의 안테나 아이콘 버튼을 터치한 후 NFC CD태그
- Android : 휴대폰의 NFC를 기본모드로 설정한 후 NFC CD태그
4. 앨범 다운로드 후 콘텐츠 이용
Product Information
Item : NCT DREAM - The 3rd Album [ISTJ] (SMini Ver.) (Smart Album) (Random Ver.)
Country of Origin : Korea
Manufacturer/Imported By : Kakao Entertainment
Quality Assurance Standards : In accordance with relevant laws and consumer dispute resolution.
AS Center Contact : Ktown4u, 02-552-0978
Company name: KTOWN4U Co.,Ltd. | CEO: Song Hyo Min
Business Registration Number: 120-87-71116
CS Centre: CS Talk
Affiliate Enquiry: Ktown4u@ktown4u.com
Office Address: 513, Yeongdong-daero, Gangnam-gu, Seoul, Republic of Korea
Distribution Centre: No.49, Floor 9, 55, Bukhang-ro 120beon-gil, Seo-gu, Incheon, Republic of Korea (22853)
Copyright ⓒ All rights reserved. Ktown4u.COM